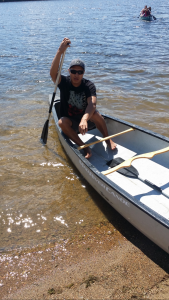 RECREATION AND ACTIVITIES
Involvement in individual and group recreational activities is an important component of the therapeutic experience at Eagle's Nest. Participation in a variety of activities provides youth with the opportunity to learn about themselves, develop new skills and interests, develop a positive self concept, and build relationships with others. At Eagle's Nest we believe it is important for children and youth to be physically and mentally active.  We provide a wide variety of activities to our youth as we recognize the need for youth to explore and find activities that they enjoy and excel at, as well as diversify their experiences at this crucial stage of their adolescent development.  A balance of differing activities is maintained in the homes in order to ensure that no youth is left behind or secluded from the feelings of successes and challenges that come through involvement in such activities.
Each program plans activities that are designed to meet the specific needs of the youth in that home.  These activities include, but are not limited to: swimming, team sport games, fitness programs, arts and crafts, music, attending cultural events and speakers, attending sporting and arts events and facilities, dancing, board games, reading, tobogganing, etc. Participation on community sports teams or joining community clubs and activities is encouraged as this provides the youth with the opportunity to make new friends and develop a sense of community belonging outside the Eagle's Nest program. At various times throughout the year, agency events will be planned and carried out by the local Eagle's Nest staff and programs.  These events include winter carnivals, marathon events, Christmas events, and talent shows.  Each of the four Eagle's Nest locations hosts at least one special event per year. We believe that it is important to continually strive as an organization to explore new horizons for our youth and we encourage our youth to participate and enjoy all of the wide variety of recreational activities that we can offer.